Home
›
No Coast Blind Bourbon Reviews

90+_Irishman
Loveland, CO
Posts: 12,440
✭✭✭✭✭
So about two weeks back several brothers plain and simple blew me the hell up, included in that mix was my bro Doug (D Fresh) who had sent 6 samples that only had a number on the bottle. The deal was I would review each of the six samples completely blind and without bias and then at the end I would rank the six samples from rank 1-6 and then tell Doug and let him see all of the reviews, at that point Doug would then tell me what sample number related to which bottle from his collection. Well just last night I wrapped this up and I have to say I was floored by how I rated which bourbons blindly and how they ranked. Thank you so much bro and this was such a great way to do this and was an absolute blast as well as great practice for when we get the blog fully up and running!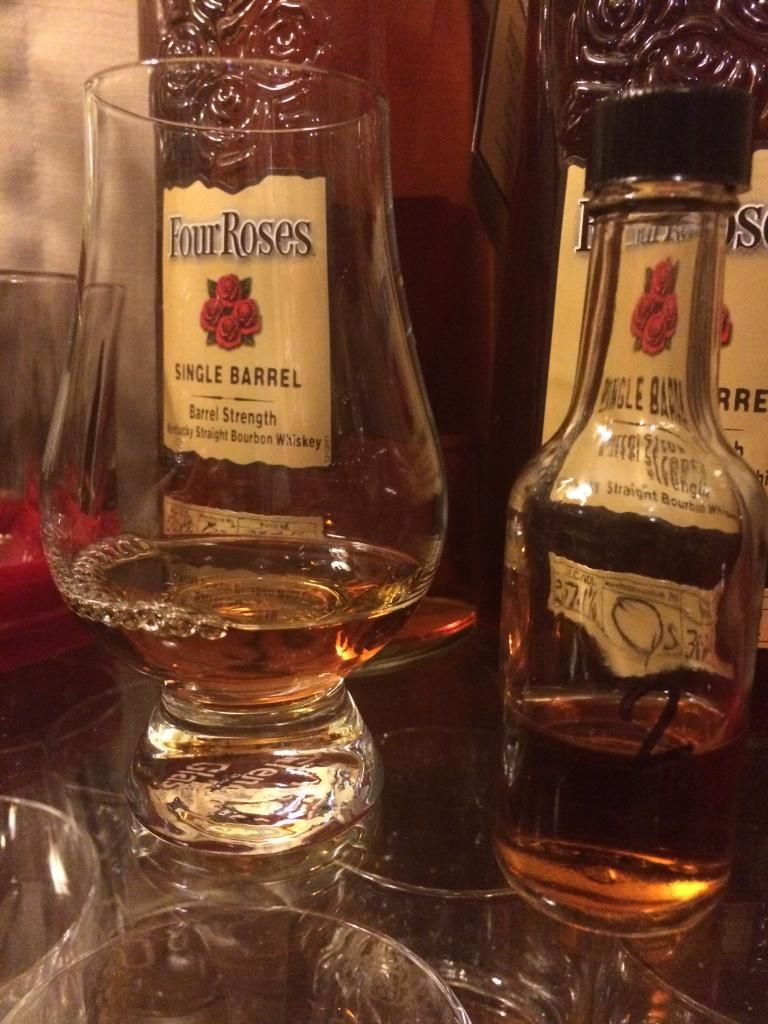 Doug Sample 2 - Rank 1 Heaven Hill Bonded 6 Year White Label (cheapest bottle in collection fyi)
Nose:
Holy cats what a magnificent and gentle nose on this guy. This is going to sound weird but it's like a warm sweet caress from a well known lover. It just takes me to a place of peace and comfort, soft and mesmerizing. Butter heavy and laced with vanilla, a mild sweet oak and a underlying current maybe of citrus. Remarkable and love it, one of my favorite noses I can recall!
Palate:
I should point out that in preperation for this I poured this dram and then just let it sit and open undisturbed for 50+ minutes. That being said it was love at first dram here folks wow. The only bourbon I've had that I instantly fell in love with from the very first taste was my private selection barreling of Four Roses Single Barrel Barrel Proof (10 year OESO) and this is strikingly similar. Very sweet immediately up front and that buttery nose comes out in the flavor profile to. What's interesting is there is zero burn up front and then you let it wash over your palate and it slowly starts to build and build and build. It keeps building up to this warm and moderately powerful burn but it never becomes overpowering or takes away from the enjoyment. Vanilla is there on the mid palate along with the normal oak and corn notes, and on the long finish there is a hint of a bright citrus note that shows up. The only drawback I can find so far is the lingering note long long after the finish goes away is a bit of a grassy note that I get with many bourbons including some of my favs. Not sure why I get that note on so many that lingers minutes after I take a sip but I do. Overall however this is an outstanding bourbon and so far I would say 4.5/5 stars.
With Distilled Water:
The water calmed down the burn a lot, much more than I expected and made this buttery smooth. It also highlighted the vanilla and butter notes and added a touch of caramel that I really enjoy a lot!
This brings this up to 5/5 stars, world class!! It also knocked down a bit of the grass lingering taste I get several minutes after the sip.
Doug Sample 3 - Rank 2 Old Rip Van Winkle 10 Year
Nose:
This is easily the most complex and interesting nose that I've had of the three samples so far and I really love it! Graham cracker, vanilla, caramel, the classic bourbon corn sweetness but the most interesting note here is a bright and floral berry note and closest thing that comes to mind is maybe a rich floral strawberry.... Superb!!!
Palate:
I poured this and just let it sit and breath for a true 30 min before having my first sip. And wow it was well worth the wait and the palate is equally as complex and savory as the nose was. There is a large amount of smokiness and char that carries the underside of the profile that gives a great balance to caramel, toffee and berry sweetness. Slight hints of oak and marshmallow flit in and out and keep this interesting and add to the complexity, a terrific dram to say the least, damn! A little farther in and a new note gets picked up, a caramel apple tartness and a very small hint of nuttiness. I would say that so far this one is the sweetest and has the brightest notes of fruit and smoke and I really really love it! This is easily a 4/5 star bourbon and maybe even pushing
4.5/5 stars!!!
With Distilled Water:
I poured in a very small splash of distilled water and then let it sit and breath for about five min or so. The water opened up the nose to be much heavier on the caramel and vanilla and a bit of apple. The palate goes through a much bigger change though, it smooths out the finish a bit more, brings out a touch of warming spice and burn that I really like as an addition and finally the caramel and oak become much bigger players! Both neat and splash of water are terrific and I'm not sure if there is really a preference for me on this one, both are superb!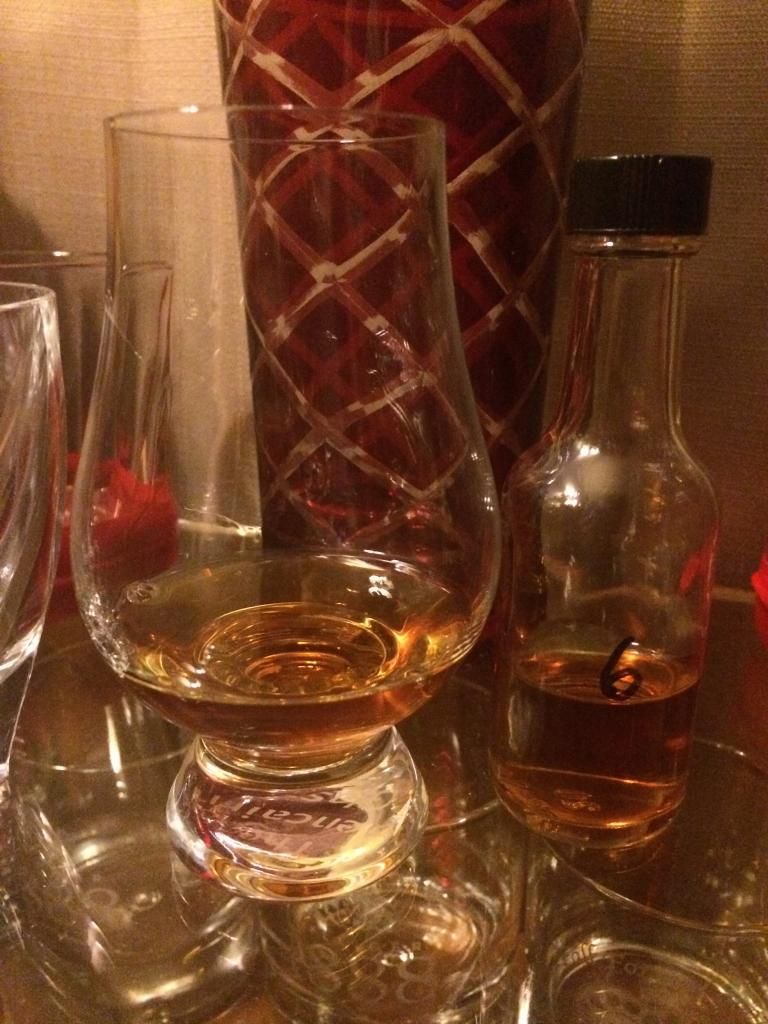 Doug Sample 6 - Rank 3 Pappy Van Winkle Lot B 12 Year
Nose:
I'm really really digging the nose on this one, very sweet and bright with the corn sweetness, lots of marzipan as well as vanilla and caramel. There is also a lingering dark fruit note that I love as well, outstanding!
Palate:
I was surprised by just how smooth and light this was one right off the bat! Oak and some smoke comes out right away that gives way on the mid palate to some salt and sweetness which is a unique but very enjoyable combo! The finish is long with a very slow building burn that barely even registers and just helps to keep things complex and interesting! There is some cherry and other dark fruits that flit in and out but I really cannot pinpoint when it comes in and when it fades away, it's simply always teasing your palate! The biggest standout on this is simply how smooth it is and the complete lack of burn, there is no specific flavor that stands out but the finish is remarkable and I really enjoy how long and multi-dimensional it is! Overall this is a remarkable bourbon and one I would buy in a heartbeat! Thanks Doug!!!!
A solid 4-4.5/5 stars wow!!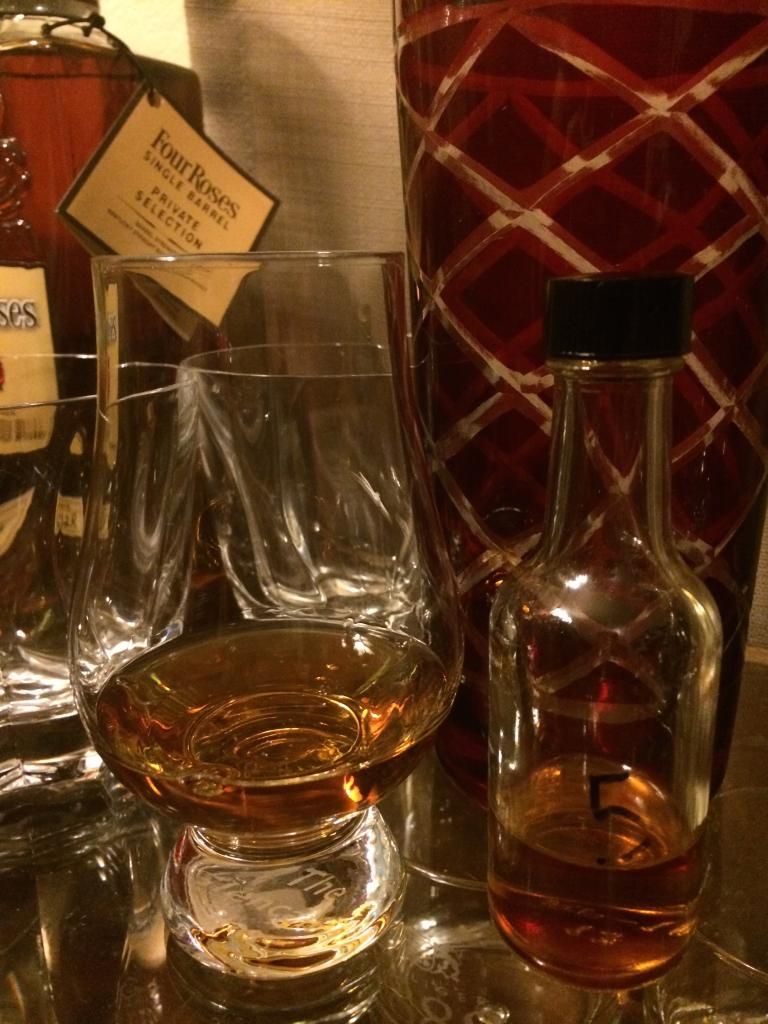 Doug Sample 5 - Rank 4 Willet XCF
Nose:
Once again I poured this sample and then let it sit undisturbed for 1 hour before nosing or tasting. This has one of the most classic bourbon profiles that I can remember recently. It's like an old friend that you haven't seen for years but the moment y'all start talking you haven't missed a beat and pick up where you left off. This is just like that, classic and very familiar. Corn sweetness with oak and char and of course that vanilla and caramel. There is a hint of marzipan however and just a touch of some fruit... Apple maybe? All said and done a really nice nose and could spend quite a while enjoying the nose alone.
Palate:
The first impression is simply how bright and vibrant the flavors on this are. Immediately hit with some salty sweetness almost a sea salt and caramel chew. There is a bit more spice that quickly ramps into the burn than I was expecting and is a little bit hot but very good regardless. I do pick up the fruit element that I got in the nose but now I can't quite place the flavor... I keep going back and forth from apple and pear but the spice picks up quickly enough that I just don't quite have enough time to figure it out. I switch to taking even smaller sips and letting just a small amount coat my palate which does help to cut down on the burn and brings in a bit more oak on the finish along with some smokiness as well as highlighting the marzipan more which shows up on the mid palate. Overall I really do enjoy this one and can tell that it is a barrel proof offering based on the intensity of the burn which was a bit surprising. Neat I would rank this between a
3-3.5/5 stars.
Didn't quite have the complexity or heavier fruit tones that I was looking for.
With Distilled Water:
I can already say that I like this far better with a splash of water. This isn't quite so hot on the burn and it does open up nicely to showcase the sweetness much more and brings out what I now taste and identify as a bit of a green pear fruit flavor that bounces back and forth with some marzipan. The oak and specifically the chat is much brighter on the finish while the smokiness is nearly non-existent now. I would put this concretely as
4/5 stars now.
Thanks Doug!!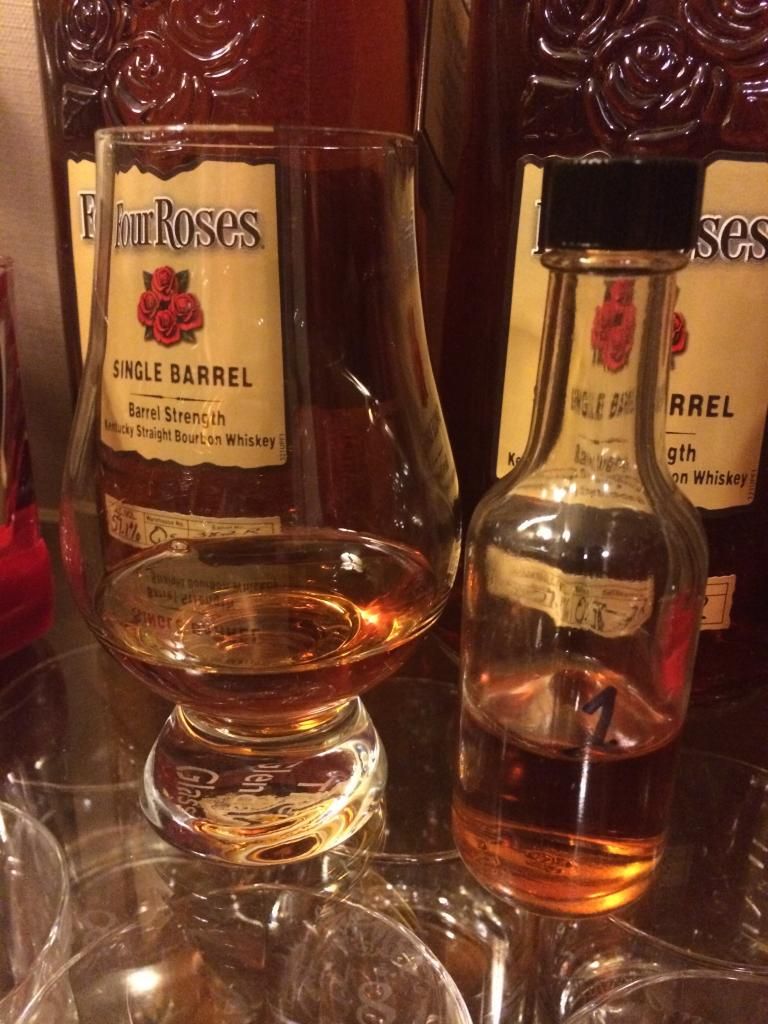 Doug Sample 1 - Rank 5 Elijah Craig Barrel Proof Release #5
Nose:
The nose is very mild on this, clean and elegant. Marzipan and toffee are the biggest players with a mild tone of citrus spice and oak. Very clean and very nice!
Palate:
I'm surprised by two things right off the bat, one this is a light on the tongue bourbon and two, there's a big but welcome burn on the front that fades to a long and clean finish. There are clear notes of citrus as well as a strong and sharp vanilla that helps to balance the lightness of it. The oak and sweetness shows right up front but quickly gives way to the marzipan and vanilla citrus mix. This reminds me a LOT of the Willett Pot Still Reserve and as it opens up it does start to get more up front on the sweetness. Overall really enjoy this but very different from my normal dark rich syrupy bourbons!
After opening:
Once I let this open up for over 30 min it did change, there was much more sweetness and the burn calmed down significantly. I also picked up a toasted marshmallow note that I loved and transformed this one a lot!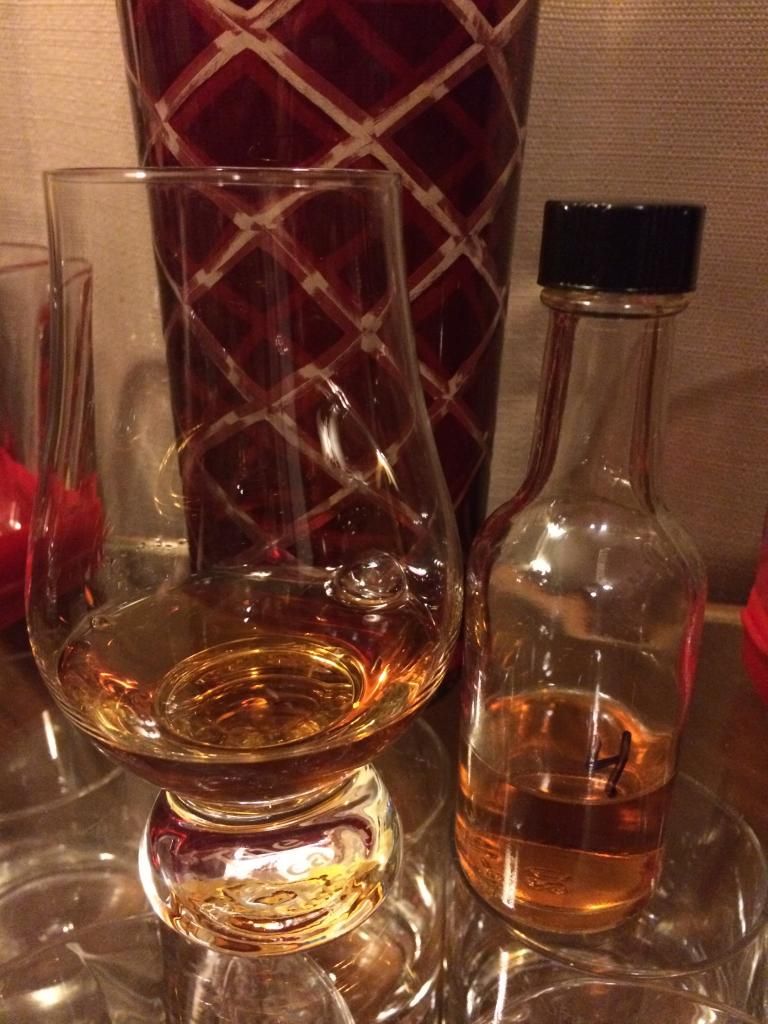 Doug Sample 4 - Rank 6 Four Roses Small Batch Limited Edition 2014
Nose:
This has a very mild and gentle nose to it, its a soft touch like a gentle lover against your senses... Comforting and gentle. Heavy on the honey sweetness with some caramel and vanilla but mostly it is dominant with marzipan and some corn classic profile. Very nice indeed!
Palate:
I poured this and then just let it sit and breath for close to 70 minutes before I ever took my first taste of this to let it fully open up and breath so that I could get everything I could from this initial journey. With that being said here is how the journey starts... There is a bit of a salty and bright tartness that is immediately apparent almost like a Grannysmith apple tartness that then steps back calming down to let the marzipan show up that was so heavy in the nose. This one is surprisingly dry though and has the least amount of sweetness of the four samples that I have tried thus far, not that that is a bad thing but it is very noticeable. On the finish the oak and char come out much more and a smokiness and saltiness shows up on the long finish. The burn and spice shows up right near the beginning and leads to the mid palate and finish staying with you the whole time. Not as smooth as most the others but still quite enjoyable all the less, thanks Doug!!!
With Distilled Water:
The water does change it, the smoke comes more to the front as does the marzipan and spice. It gets a little bit sweeter too and picks up significantly more spice. Overall I would say I prefer this one with a splash of water rather than neat.
3/5 stars for me on this one, still enjoyable and like it thanks bro!!
"When walking in open territory bother no one. If someone bothers you, ask them to stop. If they do not stop, destroy them."