Home
›
Graycliff 1666
mrpillow
Posts: 464
Graycliff 1666
I've had this cigar sitting in the bottom of my humidor for close to 6 months now, and quite frankly I hadn't smoked it up until now because I was turned off by all the horror stories one comes across on the internet about this particular cigar. The 1666, along with the Padilla Obsidian, seem to be by and far the two most frequently criticized or bashed cigars to adorn the "premium" cigar world. I decided however that I should at least give it a try before damning it to sit there forever, and here is what I found.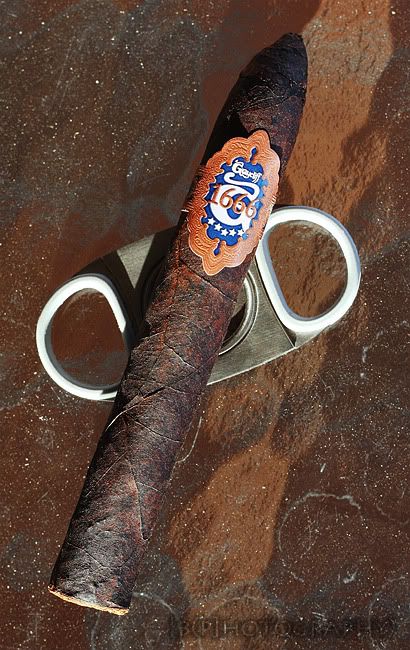 I had this cigar in the "Pirate" vitola, a 6x52 torpedo that retails on CCOM for $14.50, although frequently had for less in various samplers and other deals. Let me start off by saying, before we get into anything involving smoking, at least this cigar
looks
like something that might be worth $10. A nice oily, rugged looking maduro wrapper is adorned with the simple yet attractive 1666 band. Stick feels solid and tight in the hand, and pre-light aroma reveals a rather delicious tobacco/cinnamon combination. So far things are looking good!
I cut it with my guillotine cutter, and the initial draw was quite perfect. Once again, nothing bad so far!
The lighting was quick and easy, producing a good even light. First few puffs hit me by surprise. It was delicious! The dark tobacco and cinnamon translated well into the smoke, with notes of bitter chocolate and moist earth. Smoke output was excellent, overall I was impressed thus far. I was pairing this stick with a nice Dr. Pepper and a glass of ice water.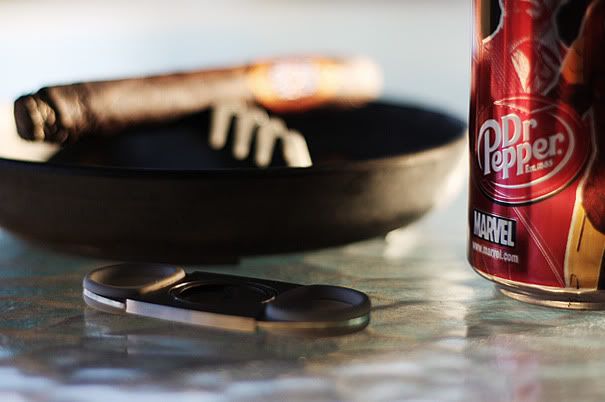 After the first 1/2" or so, a problem finally arose. Burn was getting VERY wavy, and the wrapper seemed to not want to stay lit. I touched it up and was off and going again, but not for long. The ash first fell at about 3/4" in, right into my lap I might add. I wasn't expecting the ash to fall that quick, but upon inspection the ash was very fine, dusty, and fragile. It crumbled at the lightest touch or breeze. I evened out the ash on the foot and did a quick touch up light and again was off to the races.
No more problems for another 1" or so, then the flavor went downhill. The deliciousness of the intial bit was gone, replaced by a rather acrid taste that reminded me of burnt sugar, and not the good kind of creme brulee burnt sugar. The was also getting rather, for lack of a better word, repulsive. It was jagged and rough and looked like it was itching to fall at any minute.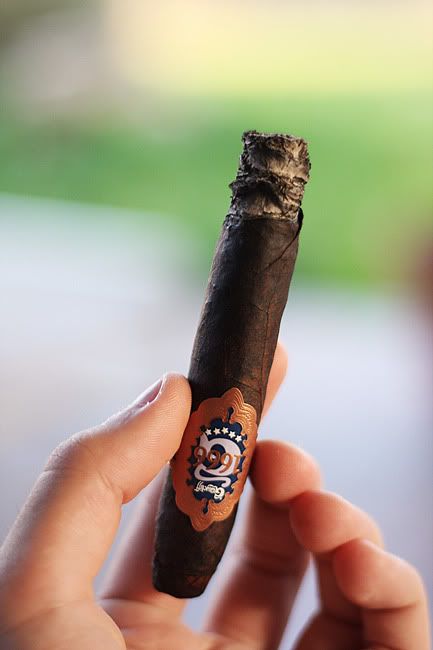 .....and it did.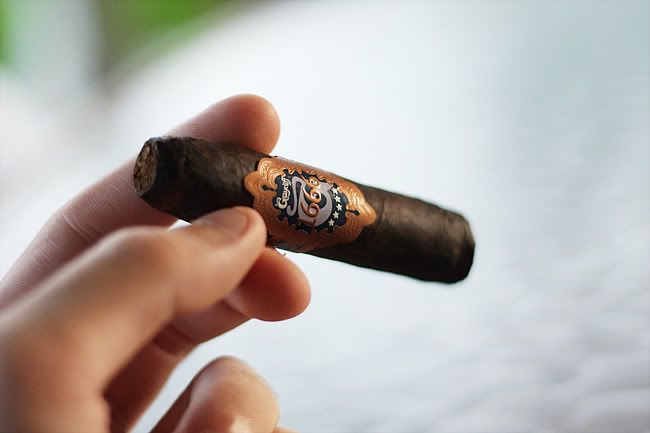 About this time things had gone down hill so far I was in the sewage ditch at the bottom. The cigar started to go out, and was having constant burn trouble. It finally wen't out completely so I cut off about 1/2" behind the burn line to see if it could be revive. I lit it up one more time and thought I was back in the game, until I looked at the exposed foot and was greeted with this not-so-attractive tunnel down the middle of the cigar -
At this point I had about had enough trouble with this thing, and decided it wasn't worth anymore of my time. I stopped trying to salvage anything from it and chalked it up to a total loss. The 1666 had met its demise.
Now, this is the only 1666 I have ever had. One bad experience is hardly enough to formulate a well founded opinion on the quality of a certain cigar, so I am not going to comment on how I feel about the 1666 as a line in general, but this one certainly didn't rub me the right way. Lot's of people seem to have good things to say about these, maybe it needed more rest? Who knows. Bottom line, I will not be putting my money towards any of these any time soon. If I happen to be gifted one, I'll of course give it another try with an open mind, but this one was definitely a big thumbs down from Mr. Pillow.