Home
›
Opus X Reserva D'Chateau
docbp87
Posts: 3,521
✭
OPUSX RESERVA D'CHATEAU
7x48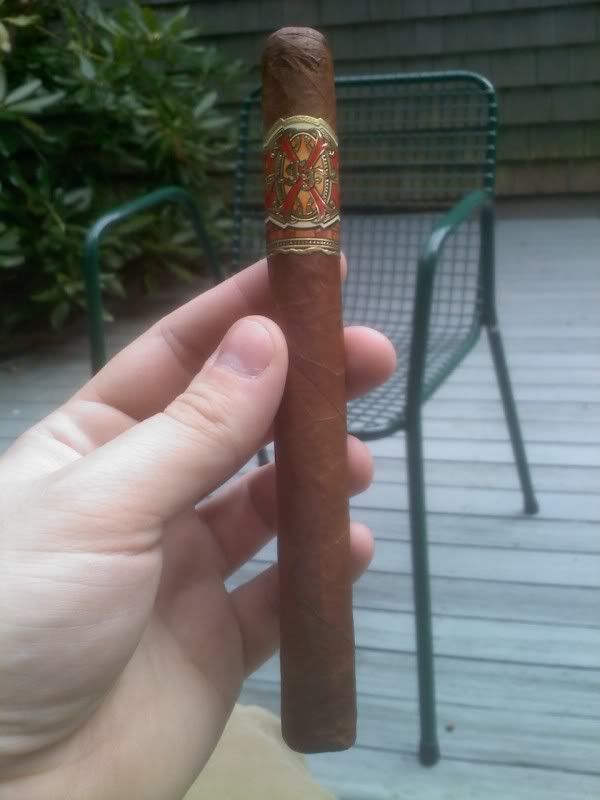 Well, it had to happen sometime. This is my first experience with the OpusX brand, and I am really excited. I have obviously heard amazing things over and over, and vacationing seemed an appropriate time to give one the death by fire. This particular stick is from last year's release, so it has a decent amount of time on it, which I have been told is crucial to the enjoyment of these.
This churchill sized stick has a gorgeous, oily, medium brown wrapper, with a visible, but not tactile, vein structure. The aroma off the wrapper smells strongly of cedar. The foot on the other hand is extremely rich, offering raisins, nutmeg, and cinnamon. This is a famously full bodied smoke, so we'll see how those flavors play out in terms of strength. The band, as I'm sure everyone reading this review already knows, is ridiculously complex and gorgeous. The pack is full, and heavy, making this a pretty firm stick, which is cool for what is also a fairly large one. Oh, and it has a perfectly constructed triple cap, and very tight seams.
The pre-light draw is pleasantly fruity, almost floral with a touch of the aforementioned cinnamon, as well as a little bit of a zing over the palette.
Lit at 3:18pm.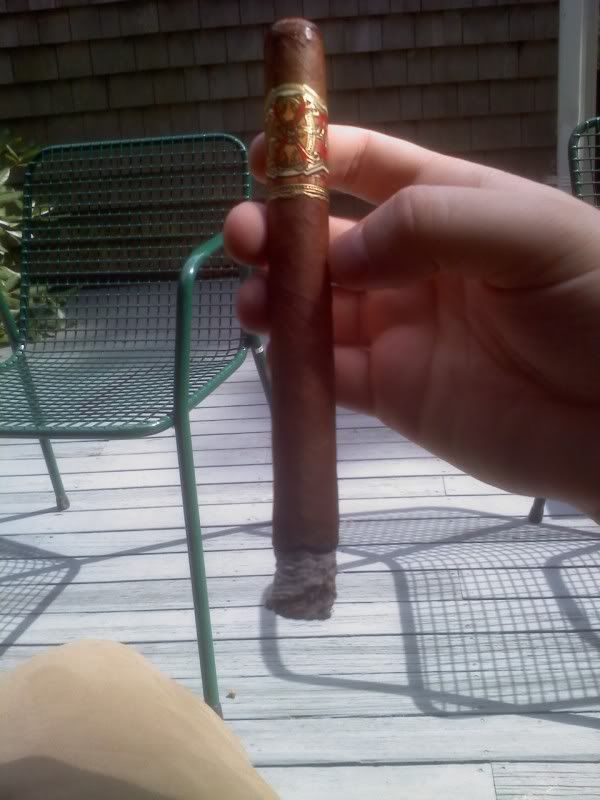 The initial flavors are a really deep pepper, accompanied by a heavy tingling burn that washes over the palette. The burn line is a little wavy, so we'll see what happens with that. Through the nasal retrohale there is a smooth cedar flavor that sort of offsets the heat from the pepper nicely. Smoke production is good but nothing amazing. It certainly wants to burn, and smokes and smolders away between draws. This is a good thing, so I doubt I will have any major burn issues with it.
Just as I expected, 3/4 of an inch in, the burnline has gone razor sharp. At an inch in, the flavors I can taste are sweet tobacco, cedar, a slight fruit through the nose, and a good pepper wash on the finish. Very pleasant combination. Not sure that I'd call the strength very full right yet, but the flavors are very rich. Ash fell for the first time well over an inch and a half, and left a perfect slightly raised center. Smoke production has greatly increased, with each draw producing massive plumes of blue and white smoke. For all the hype this cigar gets, I think the flavor profile is great so far, but the fruit flavor, which for some reason I am having a hard time specifying any further, is really the thing that sets it apart for me. Worth $30 or however much this large size goes for usually? Not so far, but definitely well worth closer to MSRP. One thing worth noting is how slow the burn has become. It is even, perfect even, but moving really slowly. So at this rate, the smoke time will probably make it worth the cost alone. We'll see I guess.
There is a slight vanilla flavor that has appeared on the draw as well, which is awesome, and goes fantastically with the cedar and fruit. The pepper is a little milder now, around two inches in, producing more of a flavor than a sensation. Mouthfeel is creamy, and coats the mouth with the sweet tobacco flavor.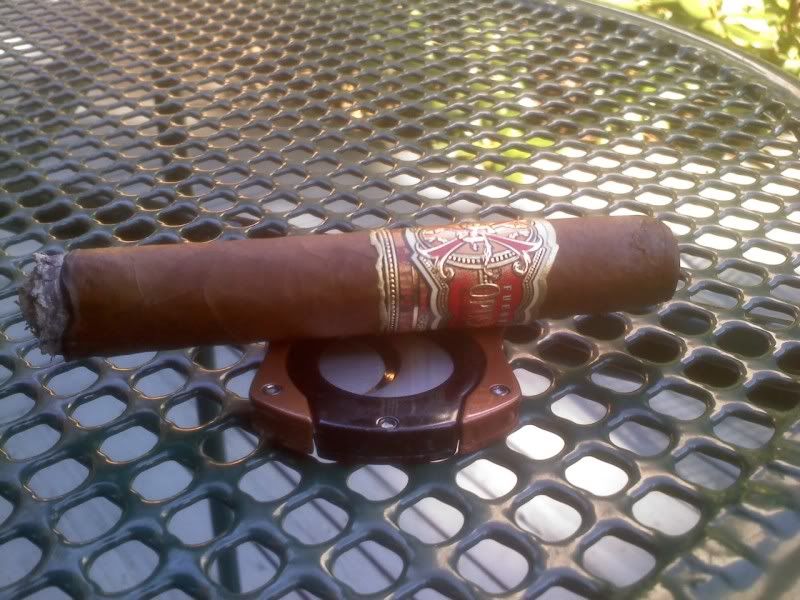 Well I've figured it out right around the start of the second third. When Fuente and Fuente blended this stick, they must have had "All American" in mind, because this is like smoking apple pie. Fruit, cinnamon sweetness, nutmeg, and creamy vanilla are all the dominant flavors, but with a wood and pepper finish that rounds it out nicely. I'd call this a medium to full body so far, with a very full bodied flavor profile.
A little bit into the last third, the flavors have gotten a little nutty, and the pepper is back a little harder. The fruit flavor is gone, but the cinnamon and cream are still there, and a bit deeper, and richer now, almost earthy. Body and strength have also ramped up significantly. Not overpowering, but certainly noticeable, making me a little dizzy even.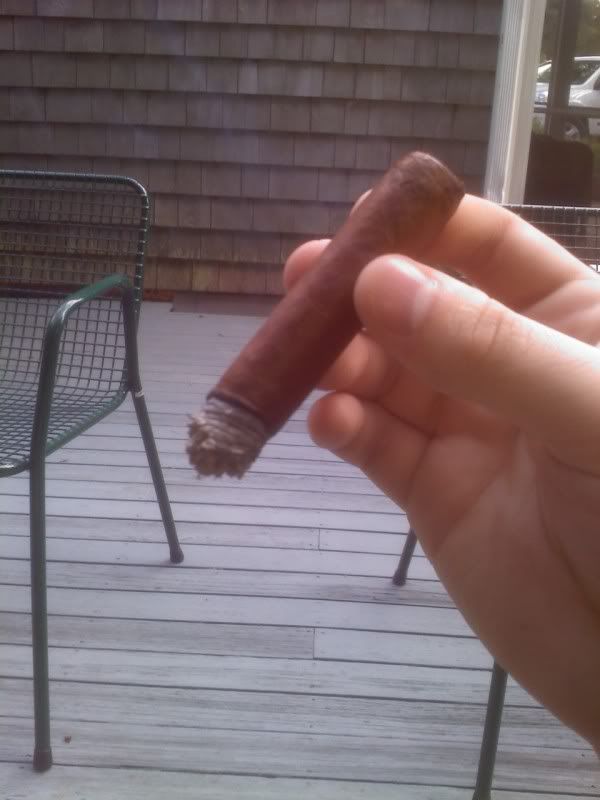 Ended at 5:35pm. Put it out a little sooner than I normally would end a cigar, only because the strength was becoming unpleasant. It really kicked my ass in the last inch and a half, leaving me sweaty and shaky. Total burn time was right around two hours 15 minutes, so you definitely get your money's worth in length. The flavors are also unique and delicious. I would like to try some of the smaller sizes to see how they compare. I hear the smaller ring gauges are where the Opus really shines, so I will definitely be trying those in the future. All in all, I definitely see why this cigar has the reputation for quality that is does. Great (expensive, special) cigar.