Home
›
Camacho Pre-Embargo review
docbp87
Posts: 3,521
✭
CAMACHO PRE-EMBARGO
6x48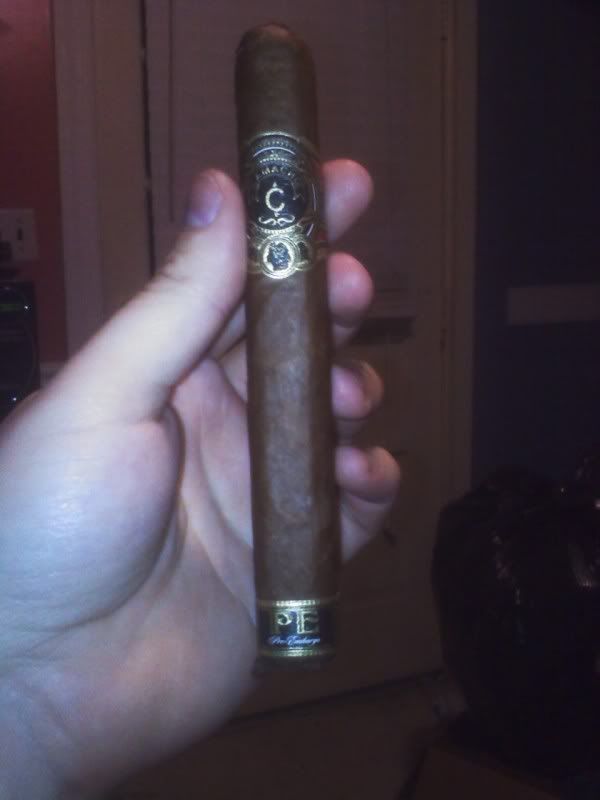 This controversial cigar (in other words... just how much of the filler is pre-embargo Cuban?) is one that I have had my eye on for a while, so I'm going to give it a shot. I've heard great things, so hopefully it delivers.
It is a slightly pressed 6x48 parejo, with a little pig tail on the cap, and a closed foot, which are both interesting little details that for me are appealing, and add to the visual attractiveness of the cigar. The wrapper is a milk chocolate brown, and looks a little on the haggard side, with a fairly lumpy appearance, that also looks a little dry (it isn't, but it looks like old stretched leather) It has two bands, one that looks like the regular Camacho 1962 band, and a foot band that says PE on it. The body has a medium tobacco aroma to it, with a slight mustiness. The foot on the other hand, despite being closed, smells very heavily of musty, musky, old tobacco. This aroma almost reminds me of heavily peated whisky. Assuming that Camacho is being honest with us, this very old tobacco smell is understandable, as it contains tobacco around 50 years old...
The prelight draw is pretty firm, but I bet that has to do with the closed foot. It offers a very deep earth, and musty tobacco flavor, more-so than anything else I have ever cold-drawn.
Lit at 2:00am
Right away there is a really rich, earthy tobacco. The finish is really long, and offers a good amount of pepper and wood. The cap is sort of falling apart after a few draws. The wrapper seems very thin and loose at the head. We'll see if it presents any problems.
Ash is smooth and white, but only holds on for about an inch, and falls to pieces. Strength is already apparent at an inch and a half in. The pepper is also really ramping up on the finish. This is definitely a very "dry" smoke. The mouthfeel is sort of unpleasant, leaving me thirsty, and well... dried out. Not an oily or creamy feel at all. Burn line is fairly wavy, but seems to correct itself off and on well enough to prevent any problems. Flavors halfway through the first third are basically musty old ass tobacco (which is awesome, and pretty unique), cedar, and a really heavy pepper. The finish also lasts for an inordinate amount of time. It offers an awesome black pepper flavor. I get pepper on tons of cigars, but not like this one. It has a level of black pepper flavor that outweighs anything else I can think of, as well as a burn on the palette that is exactly like having a mouthfull of fresh cracked black peppercorns.
Right around the start of the second third, I'm kind of let down by how quickly this cigar is burning. Every draw seems to eat away a massive amount. I can't usually watch a burn line progress as I draw, but this one sort of has a runaway-burn. The finish is a little smoother, with a sort of creamy cedar flavor sitting nicely on top of the black pepper taste and tingle, which is awesome.
Hit the halfway point at only 34 minutes in, which just shows you how quickly this sucker burns. I really have started noticing the scent from the ambient smoke off the foot. It smells heavily of wet, burning wood. Like burning wet oak, which is a great smell, and unique to my knowledge. Required a little touch up after the last time the ash fell, just to get the wrapper straight and caught up. Nothing major, and certainly nothing that affected the flavor. I am currently in awe of how long the pepper flavo is lasting, both in terms of how far down the stick I am still tasting it full on, and how long the flavor lasts in the mouth. Very good. The flavors otherwise are starting to get a little creamier, and less dry. Still musty tobacco, with a slight sweetness, plus cedar and pepper. The cedar is only sort of cedar... it is like cedar that is very old. It has a great earthy character to it. There might be a little bit of what I consider leather as well. I also am really feeling it now. Not a sick feeling, just a head rush and a little shakiness that has reared its ugly head. Fortunately it's nothing overwhelming.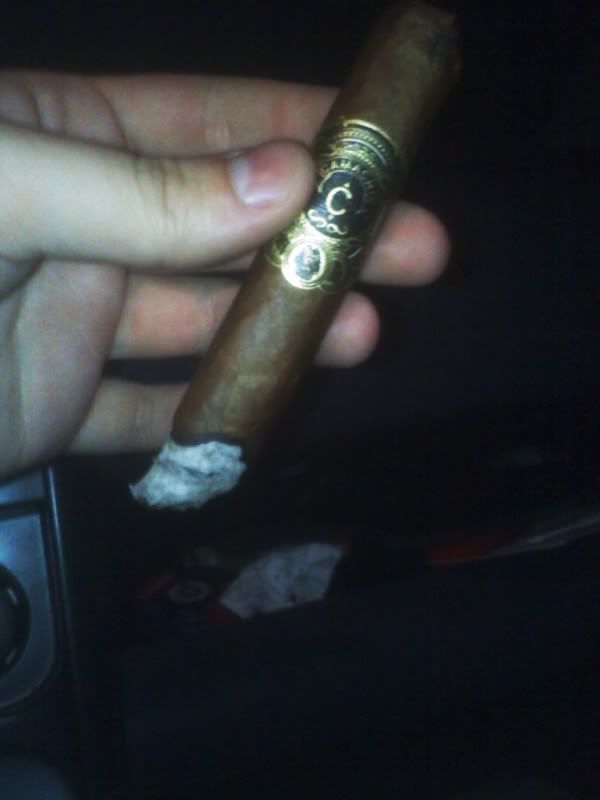 The musty tobacco flavor is much like the aroma off the foot before lighting, with a heavy peat, and almost salty flavor to it, that reminds me of an Islay whisky.
In the last third everything has gotten very woody, with the pepper burn starting to sort of overwhelm everything else. The strength is also pretty heavy, leaving me slightly light headed. With about an inch and a half left it is starting to tunnel and get soft... and really hot.
Ended at 3:16am for a total burn time of one hour 16 minutes. Great flavors offered here, some of them pretty unique. That said, these sell for over $20 each regularly, with boxes retailing around $500. Worth that price? No way. They are seen every once in a while for closer to $10 a piece, at which I think they are certainly worth it, regardless of how much genuine PE Tobacco is in them. Good flavors, decent performance and construction, plus a heavy novelty factor make this a good buy when they are on sale. I am not sure how these will do with some rest time on them, but that sort of remains to be seen (for me). My biggest complaint is the rate at which they burn. I had to intentionally smoke even slower than I usually do (and I'm not a fast smoker by any means) to get a decent time out of them.