Home
›
Ccom Brazilian Label review
docbp87
Posts: 3,521
✭
Cigar.com Brazilian Label
6x52 Torpedo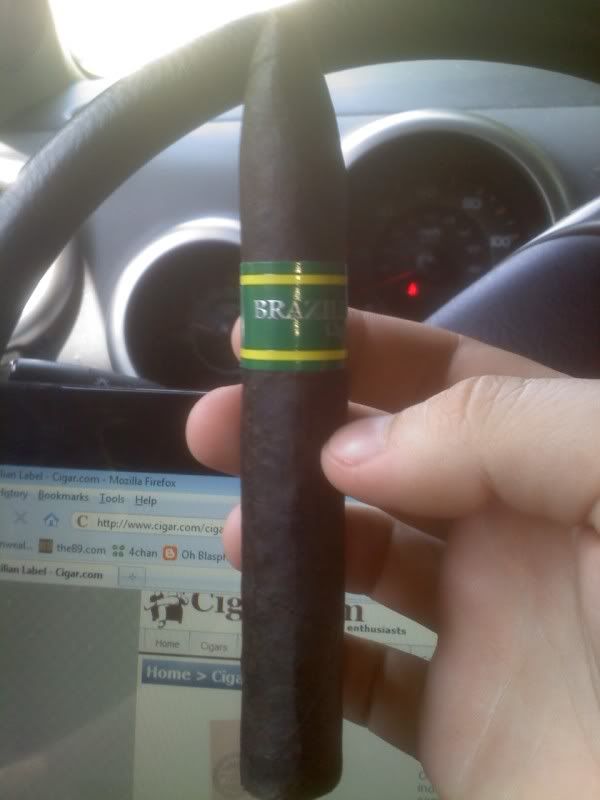 This house blend cigar is one rolled specially for Cigar.com at A.J. Fernandez's factory in Nicaragua. I love A.J. Fernandez's blends, and have had generally good experiences with Ccom's house blends in the past, especially considering the poor quality of most house blends out there on the web.
This stout torpedo features a jet black, super oily wrapper that at first had me verrry skeptical as to the authenticity of the color. Wiping it down proved that there was no loose dye involved, which is encouraging, and very interesting. The website says that the wrapper is Brazilian Arapiraca, which I am not familiar with, but based on a quick googling, seems to be used on a few very nice maduros out there. The construction is great, with almost invisible seams, a good pack with only a slight give. The aroma is of sweet tobacco, cedar, and a slight sweetness, overall a good humidor type smell.
Cold draw is firm, giving a sweet nut flavor, with a little cocoa, and not much else.
Lit at 3:20pm
Initial flavors are basically just cocoa and coffee, slightly sweet, with a little heat over the palette. Ash is a bright white, and slightly flaky. As it gets warm a ton of tooth is becoming visible on the wrapper, as well as a heavy oil sheen. I'm not positive, but I think this is a mixed filler cigar. The ash held on for just over an inch, which for a mixed fill, is not bad. It fell in a cloud of white though, so be careful, and make sure that between draws you keep this sucker over an ashtray. Burn line was a little wavy for the first half inch, but at about an inch it straightened out, and has remained straight since then.
Draw loosened up after sticking it with a poker. Flavors are still mostly cocoa and a little sweet cedar. At the halfway point the flavors are still cocoa and cedar with a really oily feel to them. Surprised by how rich this cigar is, despite the fact that is is definitely a "bargain" cigar.
It is also a pretty solid, and consistent smoke. There aren't really any changes until a bit into the final third, when the flavors more from oily to creamy, and a coffee and nut flavor replaces the cocoa and cedar. Got a little too hot around 4:30, so I went ahead to chucked it. Had about an inch and a half left, for a total time of one hour ten minutes. Fast, but still long enough to be a decent time. I would definitely consider buying more of these as a stick to smoke when I want good maduro flavors, for almost no cost, or to give to non-smokers who want to try a maduro, but wouldn't exactly appreciate the nuances of a pricier, or more complex cigar.