Home
›
Monte 4
docbp87
Posts: 3,521
✭
Montecristo No. 4
5.1x42
PTO MAR 10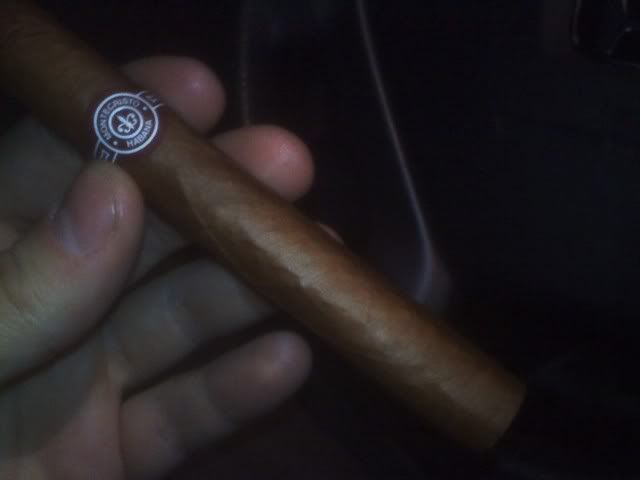 This is the first Montecristo No.4 I have smoked from this box (a 10 ct. box, my second from 2010), so I am looking forward to seeing how it is. It is New Year's Eve, and I have a few hours to kill before the parties start, so I decided it was a perfect chance to get a smoke in, especially a petite corona like this one. The Montecristo No. 4 is one of those classic Cuban cigars, and in fact, when I first got into smoking cigars, I remember having read an article by some cigar expert or another who said that the Monte 4 was the perfect cigar for the novice, and the every day smoker alike. Well, needless to say, I was quite frustrated when I, as an American, went looking for a Monte 4... Not going to see one in this country... Anyway, now I have some, and the last box I smoked through (another 10 ct box, but from JAN 10) was a great example, and as evidenced by how quickly I smoked through it, was one of my favorite smokes.
This particular Monte 4 has a great look to it. I know that due to the MASSIVE production numbers annually on this particular cigar, quality control is not great to say the best, but this at least looks like a solid example. The wrapper has a slight sheen to it, and is a dark caramel color. Not as dark as some of the Montecristos I see online, but certainly darker than plenty of Habanos I have seen. It has a very minimal vein structure, and good looking seams and cap. The pack has a firm feel to it, and seems even. No overly hard or soft spots, which is reassuring, again, considering the quality control on these. The pre-light draw is good, a little tighter than my preference, but it is not problematically firm. The cold aroma from the foot is dark, much darker than the PSDn4 I smoked earlier this week. This has a sweet, earthy darkness to it. Very pleasant. The cold draw is spicy, and woody, and again, dark. There is an overall earthy character to this cigar, at least before lighting it.
Lit at 10:20
Right away I am rewarded. It is immediately clear that this cigar is "smoking well" right now, offering a VERY distinct, roasted black coffee flavor, with a very slight sweetness in the middle like dark bitter chocolate, and finally a big, long peppery finish. I am sort of surprised by this profile, and it is a lot heavier than I remember the Monte 4 being. The draw and burn are perfect, as is the smoke production. The ambient smoke has a sweetness, but wet heaviness to it. I can already say that I am going to have a hard time smoking this cigar as slowly as I would ideally like to. I am typically a slow smoker, unless a cigar has a very interesting, bold profile, which makes me want to draw more often than I should.
I am, unfortunately, pairing this cigar with a glass of Dr. Pepper, because I am holding off on the alcoholic bevvies until I make it to the New Year parties. That said, the syrupy sweetness is not bad with the Monte, almost taming the coffee bitterness, in a good way.
About 3/4 of an inch in now, and the ash is really cool. Dark dark gray color, and very dense looking. Hopefully it will hold as long as it looks like it will (not that it would matter on a cigar of this smaller ring gauge). Burning like a dream, and just as I suspected, I am even smoking it a wee bit faster than I should be. Just got on a cigar chatroom I spend a lot of nights on, and am having a digital "herf" with some fellas to ring in the new year before the party starts (and I get too hammered to operate a computer)...
Ash held on just over an inch... and then promptly landed in my lap just as I was going to put it in the ashtray and roll the ash off. Go figure. Just my luck. That said, the flavor profile is still great, but the pepper has toned itself down greatly. It now exists only as a little tingle across the tongue after each draw. The flavors of coffee and cocoa, and a little wet earthy wood dominate. The feel of the smoke is delicate, and creamy.
Getting into the second half of the cigar, things are shifting just slightly. The peppery finish sort of comes and goes in intensity, and the burn line has gotten a little wavy. Haven't had to touch it up though, just on general principle.
Really pleased with this smoke. Not anything particularly fancy, but for such a young cigar, it is performing wonderfully, and is a perfectly good way to ring in the new year. In the final third the only change has really been the development of some vanilla bean flavor, which makes the coffee flavor a little more dessert like, which is a welcome addition to the already great flavor profile.
Ended at 11:45 for a total burn time of an hour and 25 minutes which is about what I was hoping to get out of this size. Great depth of flavor and smoke for such a young smoke. Going to try my best not to smoke any more from this box for a while, to see how they transform in the future. Thanks for reading.