Home
›
Illusione ~mk~
docbp87
Posts: 3,521
✭
ILLUSIONE ~MK~
5 1/8 x 42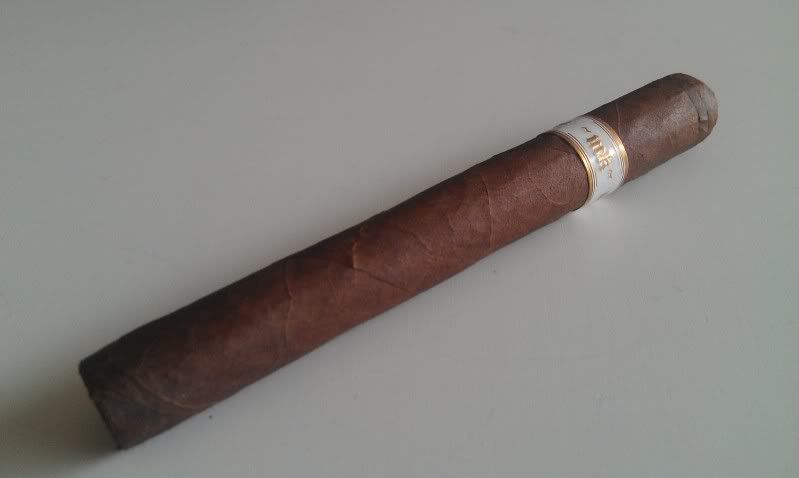 Not part of the original "Original Document" line from Illusione, the ~MK~ is a petite corona, blended with Corojo '99, Criollo '98, and the Cafe Colorado wrapper used on all of Dion's Illusione cigars. Despite being one of the smaller sizes in the line, it is billed as being among the strongest of the line. The brand's website specifically mentions the sweetness brought on by the high quality Viso used in the blend.
This particular ~mk~ has an oily, chocolate brown wrapper, with just a touch of red to it. It has a fairly heavy vein structure, more than I expected from this brand. Still an attractive wrapper though. The filler looks and feels great, and well packed. The whole stick has just the right amount of give to it. The aroma from the wrapper is just a gentle tobacco, and a somewhat musty note to it. The foot, however, offers a potent mix of dusty chocolate, the same musty tobacco from the wrapper, and leather. The cold draw is free, and tastes of chocolate, leather, and a slight earthy vegetal note. It also offers just a tingle of spice across the tongue.
Lit at 1:45pm.
The immediate flavor profile is sweet and savory all at once, combining sweet cocoa, that really lingers, with a spicy pepper and leather on the finish. There is a strong floral character, as well as a touch of dark fruit as well. Here's hoping this level of complexity this early is a sign of great things to follow.
The ash on this cigar is a brilliant, bright white, and is somewhat flakey. This is something I have noticed with the O.D. Illusione cigars previously, in several vitolas, so you have to be careful. The ash falls for the first time, for example, and a little less than 3/4 of an inch... in my lap. D'oh! There also appears to be just a touch of tunneling going on in one spot, so I will have to keep an eye on that. The flavor profile a little way into the first third here has gotten a bit heavier. At its core it features now a thick, oily leather, with just a nuance of that dusty sweet cocoa, and floral, dark fruit. The peppery finish has come down a touch, and is now a lingering, smooth flavor and sensation that sits in the back of the throat. The burn line is not razor sharp by any means, but keeps fine pace with itself, catching up within a few draws, before going weird again... and then catching up just fine.
Just a hair past the halfway point the Black Cherry flavor that people talk about with Illusione has just, all of the sudden, become very apparent. It isn't even just a subtle touch of Black Cherry. It is a heavy, sweet, dense flavor, that is strangely awesome with the leather that remains the core. The peppery finish has all but diminished completely. I have had to be careful, as I find myself almost smoking too slowly. For some reason this cigar is burning like a smaller ring gauge than it is, requiring a bit more attention to keep it going properly. Just something to keep in mind.
With about an inch and a half left, the flavor profile shifts yet again, with a sweet, earthy dark chocolate taking the forefront, and the spicy finish once again returning, much the same as it was in the beginning. Burn line has been pretty straight for a few inches now. Smoke production throughout the entire cigar has been great. Tons of thick, white smoke.
Ended at 3:00 pm for a total smoke time of one hour fifteen minutes. Great length of time for this size, and boy does it deliver on the flavor front. This level of complexity is just very satisfying, and is one example of what makes smoking cigars such an enjoyable experience for me, personally. I see this cigar taking its place as one I will revisit often (box worthy for sure). Performs wonderfully as well. Despite a weird burn line at times, and a tendency to want to go out if not given enough attention, it never was problematic at all. Highly recommended.
http://smokeintooblivion.blogspot.com/2011/05/illusione-mk.html