Home
›
Rafael Gonzalez Corona Extra
docbp87
Posts: 3,521
✭
RAFAEL GONZALEZ CORONA EXTRA
5 5/8 x 46
JUN 08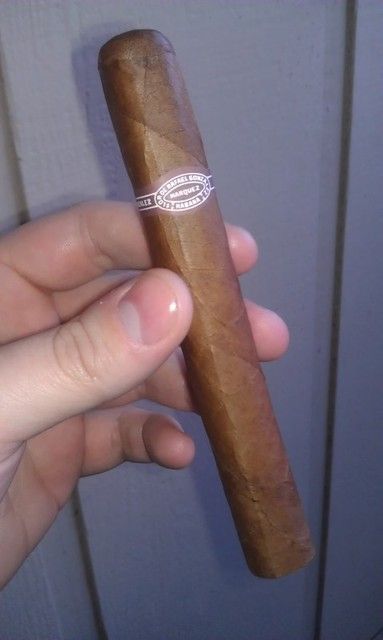 Rafael Gonzalez is a marca I literally have NO experience with. I know very little about the brand, and before receiving this particular stick as a gift recently, I had never even seen in real life. That, for me, is enough to have sparked interest and excitement, but more than that, Rafael Gonzalez is an old brand, and sadly is one that has gotten no love of late from Habanos (the Corona Extra was actually cancelled in 2010, leaving only a handful of sizes remaining in the line, much like other classic brands that are categorized as "Local Brands" in the Habanos portfolio). The Corona Extra is a classic corona gorda in size, and was first introduced before the Revolution. The marca itself has been around since the late 1920's, though according to Trevor's "Cuban Cigar Website" (
http://www.cubancigarwebsite.com)
production actually stopped on the RG brand from the early 60's until 1965 when it was reinstated. I hate to turn these opening paragraphs into rants as often as I do, but Habanos treating classic brands, that have a century, or more in some cases, of history the way they do, cutting sizes, whittling brands down to nothing, is just shameful. The Cuban cigar industry is one of phenomenal HISTORY, though it seems lately, all Habanos S.A. cares to do it hop trends, slashing classic lines to bits in order to add a hot new 3x60 piece of maduro trash to one of the major share brands (read: Cohiba or Montecristo), that may appeal to the casual smoker, or the uninitiated, but is downright offensive to those who have a vested interest in "old school" "old world" classic Cuban cigars, which certainly does not have room for the junk trends that the American market is eating up right now.
Anyway, the Rafael Gonzalez Corona Extra I have here in my hand features a very reddish brown, almost clay colored wrapper, well oiled, with only very fine veins visible. The stick has taken on a slight box press from its presentation and packing in the unique looking Rafael Gonzalez dress box. The band is one of my favorites, a simple light brown strip with no decoration, only straight forward white text that tells everything you need to know... the name of the marca "MARQUEZ FLOR DE RAFAEL GONZALEZ" and the origin "HABANA". These simple brown bands (with similar designs found on several other classic cigar brands) have long been favorites of mine, in their understated simplicity, and rustic old world design. This cigar to me is about the tobacco, not the fancy-pants frills and dressings. The seams are tight, and the triple cap is flawless in its application. The bunching feels even and just slightly firm, though the cigar itself does not feel particularly heavy in the hand. The cold aroma from the foot is a toasted bread, slightly sweet, and a very subtle herbal note. The cold draw is a touch tight, but offers a very sweet vegetal tobacco note. The sweetness is like molasses. Hopefully the draw will open up a bit once lit.
Lit at 2:30pm
Right out of the gate, the Rafael Gonzalez offers a bit of burnt toast, black coffee, and sweet cream. There is no spice whatsoever, and the body is a delicate mild to low medium. Smoke production is awesome, and the draw, despite feeling a bit snug, is actually plenty productive, and works out fine. Maybe 3/4 of an inch in, a little tang (that Cuban "twang" I guess) works its way into the mix which balances the sweetness already present. The burn line isn't perfect, but it actually is performing better, from a technical standpoint, than the Behike I smoked a few days ago.
Over the course of about the last half inch, a milk chocolate sweetness (not bitter sweet, but milky sweet) has arrived, and now plays a major role alongside creamed coffee, burnt toast, and a slight herbal flavor. I'm not sure if this flavor combination is my favorite necessarily, but it has been nothing short of very interesting so far. Performance through to at least the halfway mark remains great, not a razor sharp burn, but good enough. The smoke production, and draw is now pretty much flawless, despite having been a bit tight at the start.
Getting into the final third, unfortunately there isn't much to say that hasn't already been said. Nothing has really changed after the addition of the milk chocolate flavor early in the second third. The herbal quality as well as the 'Cuban twang' have both intensified a bit, and the sweetness of the chocolate and cream have fallen off. The toasted bread flavor has pretty much remained consistent the entire way through. This may not have been the most complex, or in your face cigar in the HSA portfolio, but what it lacks there, it more than makes up for in interesting, unique character, and old school, rustic charm. This is a cigar that I would love to have in my regular rotation to mix it up from time to time, and I would love to see how it pairs with a few different spirits (especially heavily peated Islay Whisky, or a very floral Irish whiskey).
Let this one go out at 3:55pm, so it lasted for an hour and a half, which is about what I expect from a Corona Gorda that burns at the right pace. I really found this enjoyable. Thanks for readin'.