Home
›
Irish Cigar impressions sponsored by MTuccelli!

90+_Irishman
Loveland, CO
Posts: 12,440
✭✭✭✭✭
Ok so first things first, this isn't my overall review of this cigar but rather a first experience and impression of it instead. Mike sent me a bunch of cigars about a week ago asking for my opinion on them and even went so far as to send two of every cigar just to make sure I didn't get a bum stick; his generosity never ceases to amaze me so thank you Mike, really! The first one that I've tried so far is the Honduran based Rafael Gonzalez. I am saying that this is just a first impression because the smoking circumstances that I enjoyed this in was less than ideal, it was raining out and I smoked it in on the drive to work. Due to the rain and driving it did not burn right and was a little hot but I think that is solely due to the conditions. Ok disclaimer over lol and on to the impressions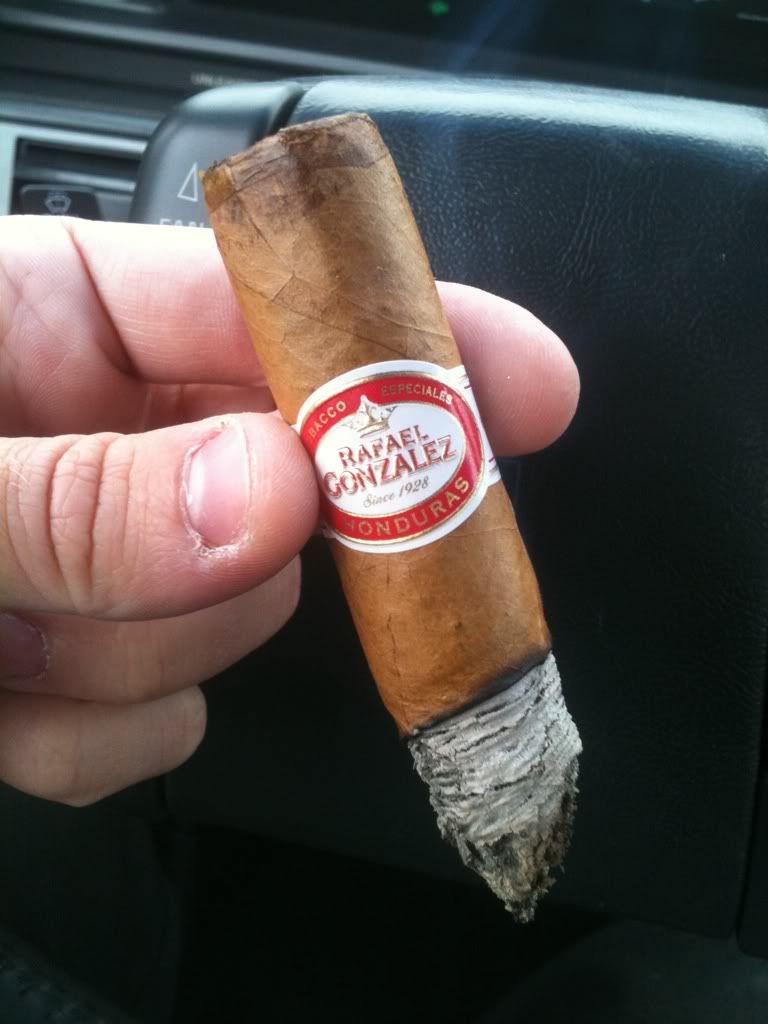 This is what one of the online retailers has to say about it: "Rafael Gonzalez cigars present a well-balanced, handmade cigar of very high quality that's also moderately priced. The filler blends choice Honduran, Dominican, and Nicaraguan tobaccos with a rich-tasting Connecticut broadleaf binder capping in a silky U.S. Connecticut shade wrapper. The Cuban version is reputed to be very mild, but this Honduran-made edition is more medium-bodied with an appealing nutty flavor, while retaining its Havana cousin's smoothness and inviting aroma."
the cigar lit quickly and well with the BIC lighter (all I had with me DOH!) and started off a little wet and hot but after the first quarter inch settled into the main flavors with fairly cool smoke and dense rich clouds of it as well, the ash was tight and well-constructed and the cigar felt really well in the hand but was a little soft and spongy, once again due to the humidity from the rain I'm guessing. Dryboxing this for 30 min to an hour would really help I think and is what I will do in the future for the next try. It opened with a very nutty flavor, a smooth and subtly sweet almond and was mellow and creamy with a mild and light leather and fragrant cedar. From there it grew into a roasted peanut flavor with caramel and a more robust leather that started to taste oily as the cigar burned and this profile stayed the same through the smoke just varying in intensity on some of the flavors. The finish was long but ended slightly bitter and a bit ammonia. By the final third, a sweet and tangy spice caught up and joined in to help balance the growing strength which was a solid medium. It was a sweet and smoky chipotle pepper spice along with some toasted tobacco notes that faded into a cedar and oiled leather finish. All in all though not a bad first impression and something that can be a great morning smoke or commute smoke if enjoyed in more favorable conditions, but like I said the full review will be up soon when I take a second crack at this in better conditions.
Thanks for reading guys, and thanks again Mike!
"When walking in open territory bother no one. If someone bothers you, ask them to stop. If they do not stop, destroy them."