Home
›
Trades, Passes and Bombs
Never invite a vampire into your house... or a Shizz!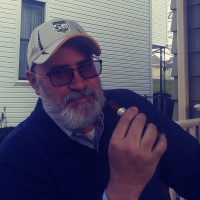 Puff_Dougie
Mr. Rogers Neighborhood
Posts: 4,601
✭✭✭✭✭
So,
@Bigshizza
came to visit Casa de Puffy last week and while he was here, he apparently took notice that my "backup" humi was full of empty zip lock bags. Today a package arrives with a lovely Thank You note to the fam... and this...
Good grief, Jimbo! You are one crazy mamba jahamba! A mashup of favs and never-tried sticks that will keep me busy for years! I should have known better than to open the door to this carnage. Thank you, brother, but you really shouldn't have. And as if the cigars weren't enough, he included a collection of CDS for me to borrow with some of Chris Cornell's best. You rock, Shizza! One of a kind, sir. One of a kind.
"When I have found intense pain relieved, a weary brain soothed, and calm, refreshing sleep obtained by a cigar, I have felt grateful to God, and have blessed His name." - Charles Haddon Spurgeon