Home
›
20 years... How Time Flies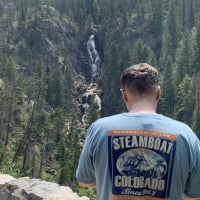 WaterNerd
Southern California
Posts: 3,062
✭✭✭✭✭
20 years ago today I married my best friend
Its amazing how fast the kids have grown up. Just seems like yesterday I was changing diapers and getting up at 2am to feed one of them. How time flies
Ethan is now 13 and in 8th Grade. Hannah is 17 and graduating HS. She will be going to CSU Fullerton to get a Civil Engineering Degree and Zachary is 22, married, and in the Air Force (Sr Airman).
Looking at the pics and reflecting on everything that we've been through over the years. A lot of ups and downs but we pulled through and some how we managed to raise 3 beautiful kids with solid values and our love for each keeps getting stronger.
Over the years I've learned its the little things in life that are the most important and never taking anything for granted.
Happy 20th Anniversary Kristen. Can't wait to see what the next 20 years has in store for us
Better to remain silent and be thought a fool than to speak out and remove all doubt
— Abraham Lincoln