Home
›
Boveda Smart Sensor Bluetooth Hygrometer
Yakster
Posts: 24,428
✭✭✭✭✭
I saw a review of the new Boveda Smart Sensor Bluetooth Hygrometer on
Halfwheel 
and for $20 each including a 75% calibration kit I decided to try two out to see how they work.  The herf dog was also interested.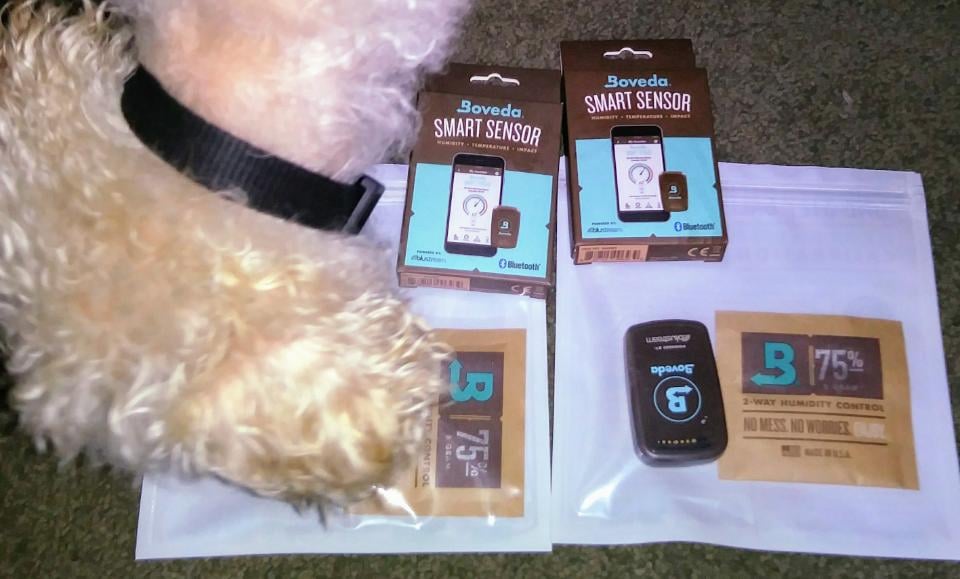 I downloaded the app from the Google Play Store while I was waiting to receive the units and I could see that these are Bluestream Sensors that go for $50 on Amazon, but the Boveda app has been customized so that you log into a Boveda account and you can easily set it up to purchase more Boveda humidification packets when needed.  It appears to be a good sales tool, probably explaining the low price.
You have the choice of a 1 point calibration with the included 75% kit or you can do a more accurate 2 point calibration with a 32% and a 75% packet.  I chose to do the 1 point calibration with the included kit.  You get to play with the app and exit the app during calibration and one of my sensors appeared to be running high (about 78%) during calibration but once it's complete both sensors were reading 75%, automatically calibrated with no need to remember an offset. 
The sensors measure temperature and humidity and you can enable a shock sensor which is said to run down the battery faster.  The battery is said to last about a year and a spare is included with the sensor along with some velcro if you chose to mount it instead of tossing it on top of your cigars like I did.  The sensors store 10 days of data which is downloaded to your phone when you connect and also to Boveda.  They use Bluetooth so you can't remotely access them unless you have a second phone that you leave at home connected to the sensors, then you can log in with another phone remotely and check on your sensors, if desired.  I have a couple of spare phones around so I may try this later.
The Bluetooth appears to be Low Energy, but the range on these seems to be pretty good.  I'm not sure if I can reliably connect to both at the same time since my Winedor is in a separate room than my box bin, but I might be able to put the phone somewhere where they connect to both.
I finished calibration and deployed the sensors, so far I'm impressed, this seems to be an easy way to keep an eye on things.  I have several digital hygrometers that I never look at, I'll be much more likely to check on things with these and I can look at the history to monitor the temperature swings in my wine cooler and in my box bin.
I'll gladly bomb you Tuesday for an Opus today. 
              Join us on the New Zoom 
vHerf 
(Meeting # 
2619860114 Password vHerf2020 )
Tagged: