Home
›
Romeo Y Julieta Reserva Real Love Story
docbp87
Posts: 3,521
✭
Romeo Y Julieta Reserva Real Love Story
4 1/4 x 46 closed foot/nipple perfecto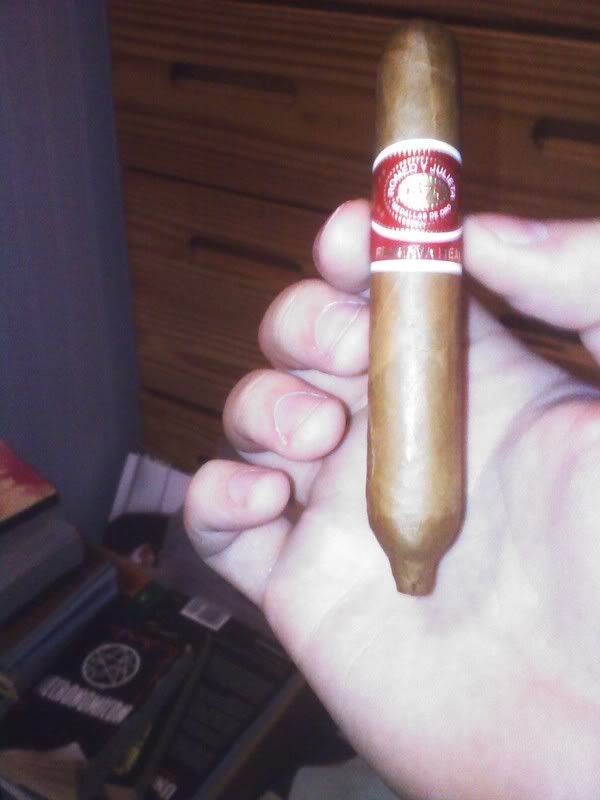 I have smoked a few of the short churchill tubos before, but this will be my first love story. I am smoking two cigars tonight, so I picked this up at the B&M today, since it is a smaller stick.
Construction looks beautiful. Wrapper is a light tan, connecticut. Not going to cut the foot, just going to light the "nipple" and let it burn open.
Start time is 10:01pm.
Prelight draw gives a creamy tobacco, and cedar flavor. Pretty loose despite being a closed foot perfecto. We'll see.
Smoke production is characteristically low at the moment, but typical of a perfecto. Initial flavors seem to be wood, with a slight pepper. Mild, MAYBE mild-medium body.
Right as it hit the opening of the full foot, the smoke production is ramped up, surprisingly productive for such a tiny stick. Burn line is acting up as the stick thickens.
Ash is holding on well at the 1 inch mark. Flavor continues to be woody, with slight caramel sweetness, and creamy smoke. Pleasant mild cigar. Burning surprisingly slow for such a small stick. The 46 ring gauge is only at the thickest part of the stick, which at the head is closer to 32 probably.
Flavors do not change really at all down to the nub.
Ended at 10:51 pm, so a really impressive burn time for a small cigar.
Very enjoyable little mild stick. Highly recommended. Picked it up for $5.00 at the B&M.