Home
›
Cigar 101
Humidor plan!
Hi guys... one of my hobbies is woodworking, and I have plans to build a humidor for myself once I get my house settled in Virginia.  I worked on the design today, and here is what I have...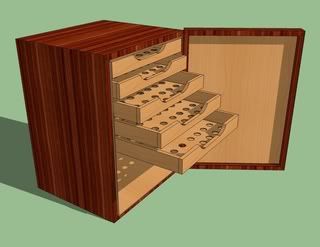 It's 18" Wide 18" Deep and 24" Tall.
The trays inside are about 16" x 15" and are just about 2" deep.  There is quite a bit of room underneath for boxes and humidification stuff... and of course I could always leave a drawer or two out to make more room for boxes when I start to get more into my collection. 
How many cigars do you think this will hold?