Home
›
Trades, Passes and Bombs
Spindrift and Poker Slob are Animals!!

90+_Irishman
Loveland, CO
Posts: 12,301
✭✭✭✭✭
Spindrift Strikes Again
So a few weeks back I was talking to Paul and commented that I would love to commission a clock from him to enjoy now, and eventually put up in the lounge (home or business if I can get that going) and that I would be happy to compensate him for the troubles. Naturally he declined compensation and on Friday this is what showed up! Paul thank you so much brother, this is an AMAZING work of art and I already have it up and running sitting on top of my cabinet humi! Thank you for the salsa and the sticks as well, all of them are azz-kicking in my book!!! Both Amanda and I are waiting to either get jobs or for them to start, so when that happens I will be able to repay the kindness and ends of trades that I owe, thank you ALL and thank you Paul, you'll be hearing from my bombing squad soon hopefully!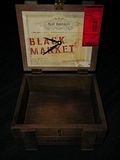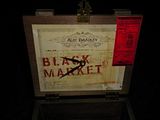 Poker Slob Is An Animal
Well Tom and I met up this past week and herf'd for the first time. Had a great time and smoked some great cigars and Tom is a really wonderful brother! Well I hit him with a few dog rockets, but man did he hit me back HARD! Can't thank you enough Tom, and I will thoroughly enjoy ALL of these, thank you so much my friend!! Oh he also set me up with an AVO Domain, but I already smoked that and it was simply incredible, burned to the burn and my fingers are still tender lol. Thanks!!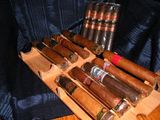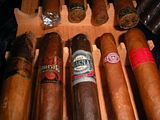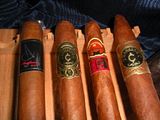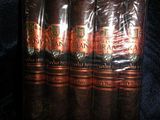 LGC Spirit of Little Havana Contest Winnings!
Around two weeks ago I found out that I won the LGC FB Contest "Spirit of Little Havana" and was floored! This is the first contest that I've won of any sort (besides Movie Trivia etc on the forums) and love LGC sticks anyways, so I was really pumped to get the winnings. Well they came and here it is, thanks a TON LGC Team!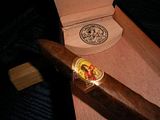 "When walking in open territory bother no one. If someone bothers you, ask them to stop. If they do not stop, destroy them."