Home
›
Back yard camp out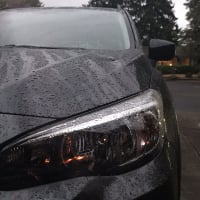 LiquidChaos66
Posts: 3,767
✭✭✭✭
Last night we decided to have a camp out for our 4 year old daughter. So we set up our tent and have a fire in out fire pit. We roasted hot dogs and made smores. lounged out in the grass till the sun went down and climbed into the tent and went to sleep... or at least tried! WHEN DID I GET TOO OLD TO SLEEP ON THE GROUND?!?!? Man oh man. my entire body is off kilter! i turn 29 on saturday... i shouldnt be having these issues for at least another 11 years! lol All in all it was a great time.
I cut my thumb and index finger open with one of my knives... but i kinda deserved it. lol
Life is like a blind fiver. You never know what you're gonna get.