Home
›
General Discussion
Foundry Feedback?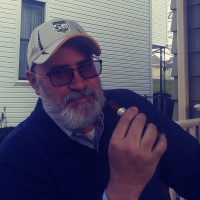 Puff_Dougie
Mr. Rogers Neighborhood
Posts: 4,601
✭✭✭✭✭
Stopped at the local B&M today and saw this stick. Made an impulse purchase, cuz I got sucked in by the fancy marketing. Pretty cool looking cigar. Looked it up on the interwebs and see that it's a new stick by a new company that uses non-traditional fillers from undisclosed countries to create unique blends.
Also searched the CCOM forum history and found a thread where everyone was discussing how cool the gear band is, but no one seemed to have ever lit one of these babies up.
Anybody actually smoked one yet? What did you think? Did I get seduced by flashy packaging?
"When I have found intense pain relieved, a weary brain soothed, and calm, refreshing sleep obtained by a cigar, I have felt grateful to God, and have blessed His name." - Charles Haddon Spurgeon