Home
›
My car the jinx... (pic heavy)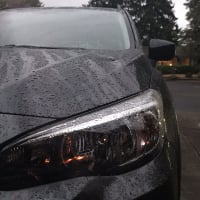 LiquidChaos66
Oregon
Posts: 3,767
✭✭✭✭
So i love my Mustang.... Her name WAS Annabelle... She is now known as Jinx. Last week i got in my car and drove to work and noticed a metal on metal noise when i turned left and when braking. Being who i was i drove to work and back home and didnt touch it till monday when i went to a shop to have it worked on. The shop performed a diagnosis, aligned my brakes, repacked and seated my bearings. The issue still happened. After doing some more work they found it to be the back of the drum rubbing on the brake backing due to a warped hub. Before i left i got the mechanics OK to drive the car and was told it was a noise issue and cause no concern to the safety or general use of my car....
This noise continued the next few days and the car was feelin fine while driving. It really was more of a noise issue from what i knew. This morning however proved to be different. I drove to work and stopped at a 7-11. The noise had been pretty consistent on my drive in. As i pulled into the 7-11 lot i heard a *BAM* as my drivers side front wheel and tire blew off my car, dropped the nose into the ground, and slid to a stop. Needless to say my car is now at a body shop and my insurance company is hard at work on my claim. I am now at home nursing aches and pains as well as a 3 inch gash on my leg from my dash.
Not more than 5 minutes before this happened i was on the freeway going 60mph. After that i was in twisty winding roads with drop offs on either side.... No other cars or people were involved. I know sure as S**T that God was watching out for me. What a morning.
Life is like a blind fiver. You never know what you're gonna get.