Home
›
Trades, Passes and Bombs
kswildcat visited my mailbox with total Ruination!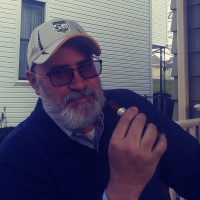 Puff_Dougie
Mr. Rogers Neighborhood
Posts: 4,601
✭✭✭✭✭
Good Lord, Randy! 
Dudes have been so kind to me and Mrs. Puff in celebrating our 30th, and just when I thought I could fade back into obscurity,
@kswildcat
goes full nuclear and hits me with this...
As if a whole frickin' box of MOWs wasn't enough, he sends a platoon of bodyguards and some bad azz Pittsburgh Steelers gear! 
And, yes, the crazy cat sent me a w.h.o.r.e for my wedding anniversary. LOL! 
I am beyond blown away by this over-the-top gift, brother man! Thank you. Tomorrow I'll be putting out applications for a second job so that I can begin to pay back the unbelievable generosity of this incredible community of BOTLs. 
"When I have found intense pain relieved, a weary brain soothed, and calm, refreshing sleep obtained by a cigar, I have felt grateful to God, and have blessed His name." - Charles Haddon Spurgeon