Home
›
Trades, Passes and Bombs
Mountaineer Howdy!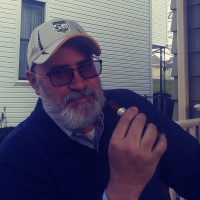 Puff_Dougie
Mr. Rogers Neighborhood
Posts: 4,601
✭✭✭✭✭
So, my neighborhood mailman, Mr. McFeeley, dropped this on the front porch and ran for his life. When the smoke cleared, I found a note from
@Rhamlin
explaining that "a little bird" told him Mrs. Puff was from West Virginia too and somehow this amounted to a rationale for smacking the crap out of me with this...
Holy smokes, brother!  This selection is Almost Heaven! Totally unexpected and completely unnecessary but much appreciated. Mrs. Puff said to tell you that you're welcome to stay at Casa de Puffy anytime you want to come up and visit the Burgh. Thanks for the awesome smokes, Ricky... and watch your back. 
"When I have found intense pain relieved, a weary brain soothed, and calm, refreshing sleep obtained by a cigar, I have felt grateful to God, and have blessed His name." - Charles Haddon Spurgeon