Home
›
Colibri SV Cutter
VegasFrank
6 in away from the closest cigar
Posts: 5,688
✭✭✭✭✭
I feel like I'm overly qualified to give this review because I've cut exactly one cigar with this cutter. Before you WTF me, know that I picked this dollar stick so I could practice. 
the cutter is super heavy and pretty chunky in the pocket, but that doesn't really bother me. It has a straight cut on one side and a v cut on the other side. 
When you cut from either side, the cap ends up in the middle between the two cutters. Both of the blades cut simultaneously as they are on the same glider. The way it's made, you can't cut it with both blades at the same time because of the plastic molding in between the two blades.
The button causes the blades to snap open pretty loudly, and it's kind of cool, although I wonder if repeated use will end up loosening the entire device. New, it's put together very well and the moving parts of a very tight feel.
Pushing down to make a cut on either side is very easy, feels like a light trigger. Making the cut with the v cutter, I felt like I was cutting through warm butter. Way easier than I imagined it would be and way easier than my other cutters, even the good ones.
The v cut is pretty deep on the actual cigar. The one I chose was a Lonsdale type size and there was no cracking of the cap whatsoever. It seems like a good cut was never in doubt. Don't know how I feel about the v-cut in general, as I always straight cut everything, I'm going to use it for a while and see what it's about.
40 bucks at Holt's with free shipping makes it a really good deal, I imagine the only thing that people would not like about it is the size and the weight.  Funny thing is but when I went to Holt's and search for it, it came up as 50 bucks with no free shipping, but when I clicked on accessories, then cutters, then scroll through the list, I found it at 40 with free shipping. Go figure.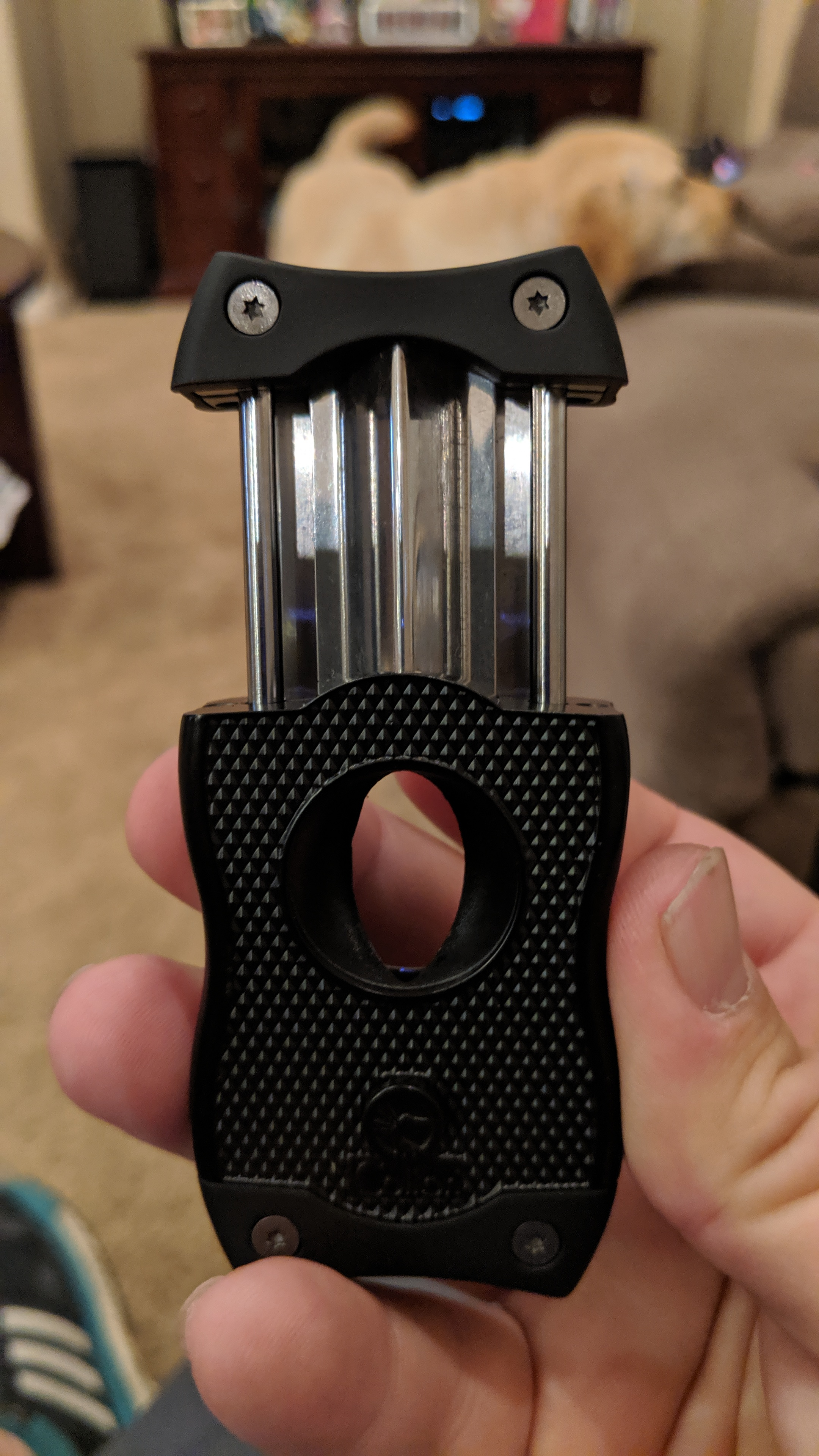 President of the ccom Rocky Patel Fan Club
Any of you guys call
ME
Francis, and I'll kill ya.
AJ blends don't suck.
What would Nick smoke?
She's not much of a wrestler....
Be like Peter; only order items that are in stock!

"Time wounds all heels" - @Usaf06