Home
›
Trades, Passes and Bombs
MINI BOMB INSANITY!
Redtailhawkoz
Posts: 2,915
✭
Ok Guys I am now Offically on my Mailmans S.H.I.T.L.I.S.T............ I walked tomy mailbox today and i had not one but Two Keeys in it.... Both Package Bins and My Mailbox were completely STUFFED with BOXES! 11 to be exact..... thats right 11 boxes and the Mailbox was smoking HOT Ready TO IMPLODE ....
Good thing I got there In TIME....
ANywayenough of the Joking around...... This is SERIOUS........... What this Commun ity HAS is HEART...
I have been part of Many things in My Life and Have never seen the Love or thoughtfulness or genorosity that Is In this FORUM.PERIOD. My Wife and I have Been Stressed Beyond the Limits the last few weeks and I havent realy spent any time on here for a couple weeks. My wifes Mother is in the BIG Battle with Cancer and My Mom having serious heart problems with an already Really patched Up Ticker. You guys have been praying and helping me through this and yesterday and today THE BOMBS HIT. Not sure But Im pretty Sure that MINIBREEZY is the Main force Behind this one Rallying the troops.
Here are some pics and the Names from which I will forever have on the Good traders and Stand Up Folks List In My book along with the Others alreay there! My wife does know that This Hobby brings me great joy and I have made some Fantastic Friends but also finds it IRONIC that I got SLAMMED WITH CIGARS for dealing with Cancer and HEART Disease.... LOL I said we all have to go somehow Ill take the double WHAMMY! Shes good with it and sends her Loive and Thanks for the Prayers. These Pictures and SIgn were her Idea... ENJOY!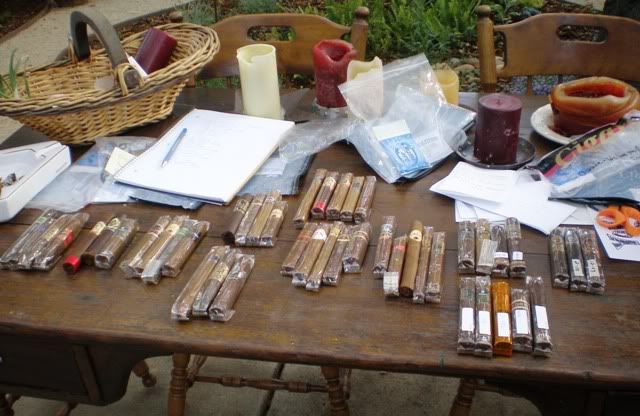 Thanks to Minibreezy, LjL,Sightunseen,The SNiper ( he has a HUGE Heart),Firetrucky, The Cank, Tatujaue VI, Brotheradam,Duder,Zeebra,Ross D. and Kreig.
Whats Next! Thanks Guys I think it was a total of 46 Sticks and some Great Ones! Had to rearange both my Humidors..... thats a Good thing!,br> Thanks ,
Ozzie
and Maria