Home
›
Cigar 101
Good kitty litter list and bad kitty litter list. (Formerly known as the - Good cat litter list and
(List is meant to be updated. If you have any experience with other litter brands, good or bad, please pass along your knowledge and I'll add it to the list.)
I feel it's a good idea to post a list of brands "acceptable for use with cigars" for all who wish to begin using cat litter to control humidity in your humidor. Or for anyone who might need to switch brands. The list will not be in any particular order and I don't intend to get into all the "how to" aspects of this subject. I only want to point out the specific brand Kitty Litter products that can safely be re-purposed for use in our humidors. I will edit this list in the future with input from members and/or my own experience. I will update the list as needed here in my first post. Feel free to recommend, or advise against specific brands. If you have experience with and can testify that a particular brand and type is ok to use, or if a particular brand is not ok to use, please share your knowledge. (Please be specific in your descriptions and provide pictures if you can)
"GOOD" cat litter:
#1. ExquisiCat® Crystals Fragrance Free Cat Litter (This litter is most often mentioned as used by members on this forum. Found at PestSmart. Large granules = less dust. There are two kinds. Make sure you get the "Fragrance Free" and not the "Lavender" scented.)
"GOOD" cat litter #2. Mimi Litter, Cat Litter (found at walmart) (Members have been using this litter with good results. Pro: No apparent scent. Con: Small granules = more dusty.)
"GOOD" cat litter #3. Crystal Clear Litter Pearls (Original) Crystal Clear, by Ultra Pet. Recommended by forum member KingoftheCove.
http://www.amazon.com/gp/product/B001HWE6F0/ref=oh_details_o03_s01_i01?ie=UTF8&psc=1
"GOOD" Cat Litter #4 Amazing Cat Litter (Recommended by forum member ehehat)
Available at LOTS of grocery stores. Check out all the stores listed on their website.
http://www.amazingcatlitter.com/where-to-buy.html
This is the ideal label information. 100% silica & Odor Free.
http://www.amazingcatlitter.com/index.php
XXXXXXXXXXXXXXXXXXXXXXXXXXXXXXXXXXXXXXXXXXXXXXXXXXXXXXXXXXXXXXXXXXXXXXXXXXXXXXXX
"BAD" cat litter:
#1. Fresh Step Crystals. (Found at WalMart) (Does not mention scented or unscented anywhere on the bag and doesn't seem to have any odor but after spritzing with distilled water it has a noticeable "air freshener" scent.)
"BAD" cat litter #2. Dr. Elsey's Long Hair Cat Litter, Available at PetSmart. (I haven't tried this and only included it as an example of things to watch out for. Hopefully you would know to avoid this silica cat litter because it states on the front of the jug/container, "herbal attractant". What is "herbal attractant"? Is it catnip? It could make your cigars irresistible to your cat and then how will you explain all your cat's burns to the vet? )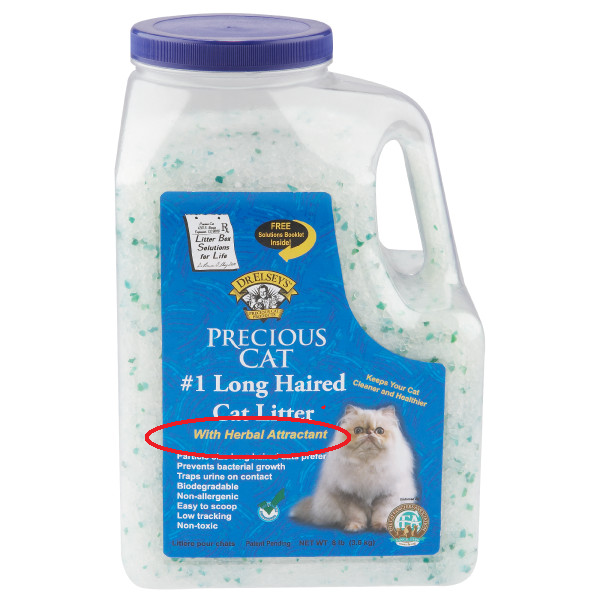 Bad cat litter #3. (Shoulda' been Bad cat litter #1 or maybe he's doin' a #2 but,....whatever.)
"I'm gonna say also used cat litter should go in the bad section." - Lee mcglynn.