Home
›
CCom Troll of the Week
Rain
Posts: 8,958
✭✭✭
Each Sunday, I will honor whomever I think has been the best troll for the previous week. This is a prestigious honor, but this award is not endorsed by the NAACP, NASA, USAA or UPS. And, the inaugural winner is...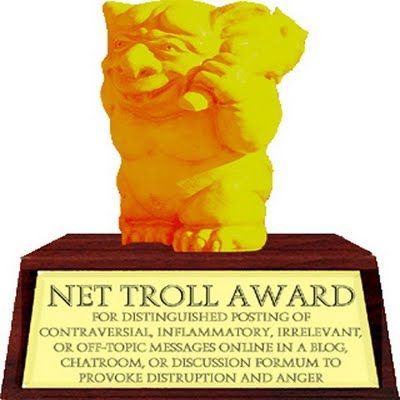 14DEC2014 - KingoftheCove21DEC2014 - MorganGeo4JAN2015 - bcfaustralia (youtube.com/watch?v=f4-6Sy9vGDg)11JAN2015 - Detroit Lions18JAN2015 - New England Patriots (inflate gate)25JAN2015 - jgibv and pelirrojo (first time we've had a co-champion)1FEB2015 - Brian Etz (first time someone won early in the week.) 8FEB2015 - DZR15FEB2015 - Curt22FEB2015 - CCom and CoyoteStandGate1MAR2015 - CCom and CoyoteStandGate (first repeat champion.) 8MAR2015 - JimmyV15MAR2015 - Nish Patel23MAR2015 - JimmyV (2nd award)29MAR2015 - RBeckom5APR2015 - Kellie AKA John's Wife AKA MissMakeMeASammich (just kidding!)12APR2015 - Brad K19APR2015 - The Week Brad Did Not Pick (TWBDNP)26APR2015 - Raisin & Curt (CoiChamp)3MAY2015 - Avengethis ***CURRENT CHAMPION***
avengethis:

0patience:

Ok, so here is the latest one.

Can you guess where it's going?

I'm guessing its going to CCom for their cool stands they are offering?